Pinnacle Sportsbook Review: Odds, Casino, Poker, eSports & More
For high rollers who prefer to place bigger stakes without any restrictions, Pinnacle sports has been their go-to sportsbook for a long time. A U.S.-based sportsbook, Pinnacle offers the biggest limits online, and it doesn't impose betting limits. That said, there's still a lot to weigh up here for sports bettors. For this reason, I've written this Pinnacle sportsbook review - to help you make a better decision regarding whether or not to sign up and place your bets here. In this review, I'll be taking a look at everything, from how competitive its lines are, how good its odds are, as well as any bonuses and promos it offers. I'll also be answering your most popular questions about Pinnacle at the end of the article. Ready? Let's make a start.
PROS:
Very easy to use
Reduced juice on odds
No betting limits
CONS:
Not available in most countries
Overview of Pinnacle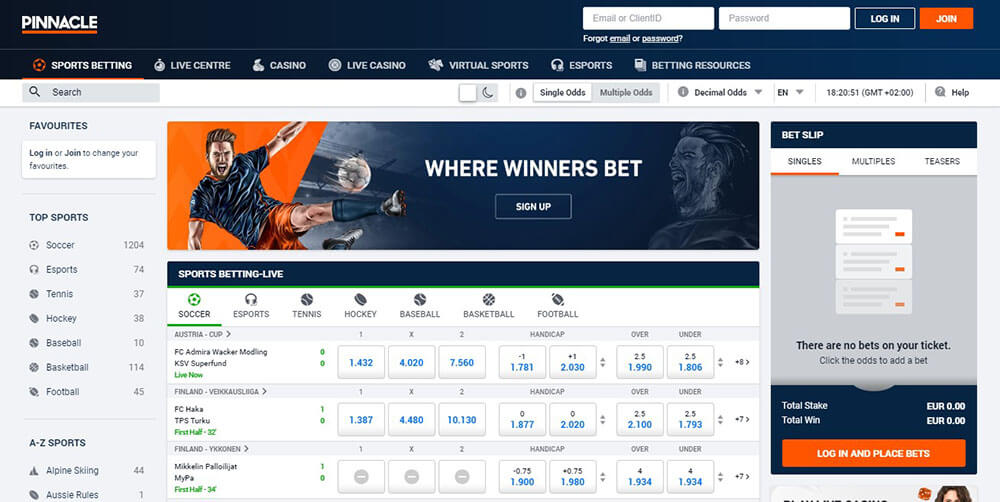 Pinnacle is a legendary name in the American sports betting world. It's been around since 1998 and has developed a reputation as being one of the only sportsbooks that won't limit your stakes. If you want to place a $1 million bet, you can do that at Pinnacle. The risk is entirely yours. 
Pinnacle is fully licensed, and it also offers casino gambling opportunities. It does not, however, offer poker games, and it's also had to withdraw its services in several European countries, such as the UK, because of changes to the European Gaming laws. 
Things To Consider Before Signing Up 
Before you sign up for any sports betting site, there are a few things you need to consider:
Welcome bonus

– Most sports betting sites offer a welcome bonus, which is designed to tempt new players to sign up. These include risk-free bets, as well as match deposit and no welcome deposit offers. As well as the initial welcome bonus, check to see if a sportsbook offers regular promos, such as March Madness promos, throughout a sports season

User interface

– The key to a good experience is a clean user interface. If a sportsbook is too difficult to navigate, it can spoil your enjoyment. 

Live betting

– Most sportsbooks these days offer live betting opportunities. But you'll want to look out for how quickly a sportsbook updates their odds, how often they randomly suspend the markets, and how detailed their in-play stats are.

Sports variety

– Before signing up for a sportsbook, make sure it's got the sports you prefer to bet on.

Online casino

– Many bettors enjoy trying their hand at the online casino arm of a sportsbook in-between sports betting action, so it's always a good idea to find out how good a particular casino is.
Pinnacle Broken Down: What's It Got? 
Now that you know what to look out for before signing up for a sportsbook, let's dive right into Pinnacle. 
Sports You Can Bet On
Like all the top sportsbooks, Pinnacle sports has a raft of sports you can bet on. These include all the major American ones, such as football, hockey, basketball, and more niche sports, including Aussie Rules, cycling, and handball. 
Here is a full rundown of all the sports you can bet on at Pinnacle:
Aussie Rules 

Baseball 

Basketball 

Boxing 

Cricket 

Crossfit 

Cycling 

Esports 

Football 

Formula 1

Golf 

Handball 

Hockey 

MMA 

Rugby League 

Rugby Union 

Snooker 

Soccer 

Tennis 

Volleyball
You can also bet on entertainment, such as reality TV shows and politics. 
As well as offering a comprehensive selection of sports, Pinnacle offers lots of lines for each one. Their coverage in terms of the number of games they offer is good, too. For example, if you like to bet on soccer, Pinnacle offers markets for all the big European leagues (English Premier League, La Liga, and Serie A), as well as smaller leagues, such as Finnish leagues and Ukrainian leagues.
In-Play Betting 
Live in-play betting is available at Pinnacle. You can find all live games by clicking on the "live center" tab at the top of the homepage. 
Moreover, because Pinnacle is well-known by sharp bettors for being the market mover, they offer reduced odds of juice as a game goes along. This allows you to find lots of value in live handicap bets, among others. 
Their odds are updated quickly, and there are generally a variety of lines offered. For example, in soccer matches, you can bet on the moneyline, handicaps, and totals, such as over/under goals. 
Pinnacle also allows you to "re-bet" if the odds have changed, and you want to adjust your stake accordingly. This is something that no other sportsbook offers. 
That said, there are one or two issues with Pinnacle's live betting offering. While their odds are undoubtedly sharp, the site doesn't provide in-play game statistics. This means you're at a massive disadvantage because you have no idea how a game is playing out unless you use another tool. 
For instance, you won't know how many tries a team has had in a rugby league match, how many times a tennis player has broken serve – and so on. This is all crucial information that you need in order to place better bets. 
Pinnacle also doesn't offer live streams of their sporting events. 
And sometimes they suspend the markets without warning, which can be really frustrating if you had a bet lined up. I've known this to be especially true in exhibition soccer matches, where the markets are often suspended for whole halves. 
User Interface
Pinnacle's user interface – which is based on the ASI software platform – is simple, clean, and neatly organized. There is absolutely nothing fancy about it, as you can see in the image below:
It's a professional, unfussy design that will suit the pros who just want somewhere they can place bets and win money. Site load time is good; there are no distractions, and the color scheme is plain – but it works. In fact, I'd even argue that Pinnacle looks better than any other sports betting site precisely because of how plain it looks. It just gets right to the point. 
Customer Support 
Customer service is perhaps the one area where Pinnacle sports lets itself down. For a "no limit" wagering sports betting site where high rollers can place million-dollar bets, it seems odd that customer support is limited to email support only. This means you cannot engage in live chat or telephone support with their team. 
Casino 
Pinnacle is definitely more famous for its sportsbook than its casino, but that doesn't mean we should omit the Pinnacle casino from our review. 
The Pinnacle casino was launched in 2004. Today, it's available in 100+ countries and offers 100+ online slots, table games, card games, and live dealer games. 
Games are provided by a variety of different software providers. Among these are Microgaming, who are known for their innovative, quick-fire table games and slots. 
You will also find slots here from Swedish software provider NetEnt, who are known for their awesome graphics, huge jackpots, and special features. 
Titles at Pinnacle casino include Dead or Alive II, Blood Suckers, Starburst, and Gonzo's Quest. 
There are also liver dealer games here as well, with many of them provided by Evolution Gaming, Extreme Live Gaming, and BetGames TV. You will also find more titles from the likes of Tom Horn, Pragmatic Play, and iSoftBet. 
The Pinnacle casino is available on both desktop and mobile, and you don't need to download an app in order to play on the latter. All you need to do is visit the website and enter your login details. 
In terms of its layout, the casino is slightly more colorful than the sportsbook, thanks to the way the thumbnails are displayed: 
Like the sportsbook, though, the casino is neatly organized, and the interface is clean and tidy. There's nothing flash or fancy about it, which may suit some casino players but may not suit others. 
Bonuses and Promotions 
One of the things many of us look for when choosing a sportsbook are their bonuses and promotions. 
In this section, I'm going to take a look at how Pinnacle fares on this front. 
Welcome bonus

– Unlike most other sportsbooks, Pinnacle doesn't actually offer a welcome bonus. This is

probably

because most people who sign up to the site are high rollers and pros who don't need the lure of a welcome bonus to get them started. 

Casino welcome bonus

– The Pinnacle sportsbook doesn't come with a welcome bonus, but the casino does. This offer is open to new players who just need to make a $25 initial deposit in order to grab 100 free spins.

Pinnacle Club

– If you're a high roller who regularly places big stakes at Pinnacle, you'll be invited to join the Pinnacle Club. This is a VIP program that gives you access to perks such as free withdrawals and higher (better) odds. The exact perks you get depends on what level of VIP you are.

Bet of the Day

– Pinnacle offers lower margins than practically any other sportsbook. And yet, each day, they will drop their margin to 1% for a specific game. Pinnacle invites everyone to grab this offer. All you need to do is keep checking the site so you don't miss out. 

Rebate Bonus

– The rebate bonus is only available in the casino, and it lets you claim 0.3% cashback (with no limits) on a specific casino game.
What Are Others Saying About Pinnacle Betting? 
For the sake of fairness and balance, I like to take a look at what others are saying about the sportsbooks I review. 
Where Pinnacle is concerned, the general view is overwhelmingly positive. Bettors praise Pinnacle for their reduced juice, their great prices, was and lines, as well as the fact that they let serious bettors place big stakes.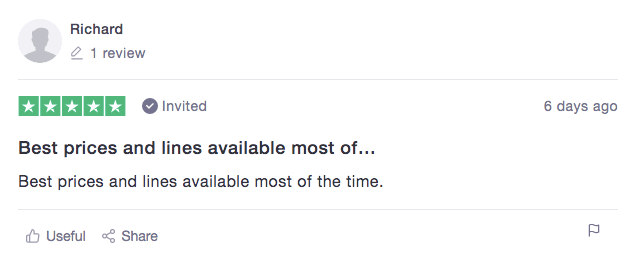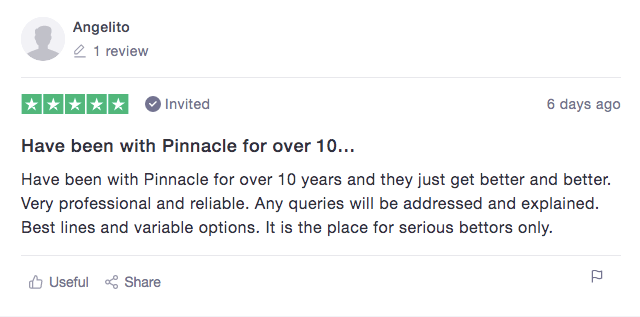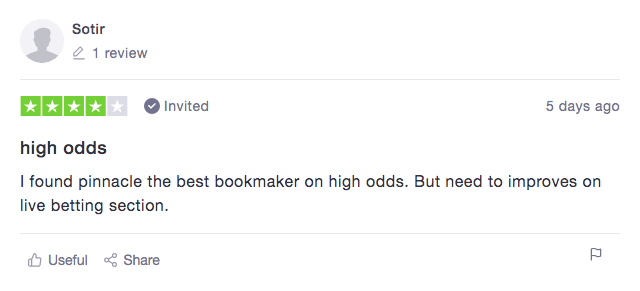 Pinnacle Sportsbook FAQ: Your Questions Answered
Is Pinnacle Safe? Is It Legit? 
Yes on both counts. 
Pinnacle has been around for over two decades and is one of the world's most respected sportsbooks, especially among those who like to place huge stakes. It's fully licensed, and currently has licenses in Sweden, Curacao and Malta. 
Is It True That Pinnacle Accepts Arbitrage Betting? 
Arbitrage betting has developed a bad name over the years, and most bookies have banned it.
However, it's 100% true that Pinnacle allows arbitrage betting. 
Why Does Pinnacle Allow High Limits? 
Pinnacle is one of the only sports betting sites in the world that a) allows astronomically high limits and b) won't restrict your account if you keep winning.
Why? 
Pinnacle states that high limits are key to their business model. It's precisely because they offer such high limits that their odds are sharp and full of value. 
So I Can Wager Whatever I Want at Pinnacle?
Yep. 
Back in 2014, during the World Cup, Pinnacle were taking $1,000,000 bets! 
Pinnacle Sportsbook Review: Final Verdict 
Pinnacle sports certainly isn't for everyone, and the sportsbook itself is aware of that. It's aimed at high rollers who want to be able to place unrestricted bets without having to worry that their accounts might get penalized. Their maxim is "winners welcome." If that sounds like you, this will be the sportsbook you've been waiting for. 
That said, recreational sports bettors can still sign up, but without the lure of a welcome bonus, you might be better off trying an alternative. 
Specification:
Pinnacle Sportsbook Review: Odds, Casino, Poker, eSports & More
| | |
| --- | --- |
| Currencies Accepted | AUD, Brazilian Reals, Chinese Yuan Renminbi, Colombian Pesos, Czech Koruna, HKD, Japanese Yen, Korean Won, Malaysian Ringgit, Mexican Peso, New Zealand Dollars, Norwegian Kroner, Polish Zloty, Russian Rouble, Singaporean Dollars, Swedish Krona, Taiwanese Dollar, Thai Baht, USD, EUR, CAD, GBP |
| Minimum Deposit | $15 |
| Bonuses | Yes |
| Languages | English, Spanish |
| Live Chat | No |
BEST BETTING SITES
Please check your local laws first
Pinnacle Sportsbook Review: Odds, Casino, Poker, eSports & More