Realbet Sportsbook Review: Live Betting Sportsbook & Online Casino
REALBET IS NO LONGER ONLINE - FOR AN ALTERNATIVE, WE RECOMMEND BETWAY There are a plethora of sportsbooks out there for you to choose from, and it can be exciting when you come across one that seems like the right one for you. There are times when these sportsbooks burst onto the scene and become a mainstream option, and there are those that explode and then fizzle out, never to be seen again. Realbet can be categorized under the latter. In the beginning, Realbet showed some promise. They had a selection of fun games in their casino, and they were relatively competitive when it came to sports lines. However, it's difficult to sustain the financial requirements of running a casino, and for that reason, Realbet crashed and burned with a litany of allegations of fraud against them.
Trustworthiness
?
We're labeling a detrimental rating on Realbet's trustworthiness simply for the fact that they had to close, in part, due to their horrible track record with paying customers.
1
Bonuses
?
Conversely, their promotions and bonuses were relatively good compared to other sportsbooks—one of Realbet's bright spots.
8
User Interface
?
Realbet's navigation, design, and user interface is nothing flashy; however, it does get the job done.
6
Cashier Service
?
Purely based on the evidence against them that they did not pay their customers their winnings, we are ratings their cashier service a 1 out of 10.
1
PROS:
Promotions are appealing for new bettors
Accepts U.S. players
Live betting functions quickly and smoothly
CONS:
Unavoidable claims of fraudulent activity
Unstable reputation
Overview of Realbet
Realbet is a very young sportsbook that was launched in 2015. Realbet hit the ground running with nice promotions and enticing offers to get people to sign up to their website with initial hopes of becoming a new, modern betting platform for a new generation of bettors.
As is the case with most online sportsbooks, they are licensed in Curacao, with an EU domain, and available for U.S. bettors. If that confuses you, that's just the way online sportsbooks operate until regulations and laws smooth out.
Things To Consider Before Signing Up
(UPDATED 10/16/2020) Realbet Has Been Shut Down

Significant Claims of Fraudulent Activity

: If you look around on Google just for a review on Realbet, you'll be met with a barrage of warnings saying that you should avoid the website. You'll also find that it's been added to a lot of blacklists and met with a lot of F ratings. On the flip side, you'll also see a lot of review websites that don't care about facts, simply rating it as a good website. So you'll get a lot of conflicting information, but the cons outweigh the pros heavily.

Constant Payment Delays

: Nearly all complaints about this website relate to their inability to pay their customers. This is most likely due to the fact that they do not have the financial ability to operate under the strict terms of operating in Curacao while also being able to pay its winning customers.
Realbet Broken Down: What's It Got?
Sports Betting
Realbet really curates its sports betting platform to be as seamless and easy to use as possible. It's easy to place bets on the website, and it's easy to find which sports you want to bet on. In that sense, Realbet is as good as any other sportsbook when it comes to sports betting.
Their live betting feature is great – they provide some great live odds, and they have a large selection of live betting options for you to place bets on quickly.
We recommend betting on American sports with Realbet as they really try and focus on catering to the U.S. market. Depending on what time of the season you're betting, you can find some really nice odds and offers on the NFL.
Casino
Realbet does surprisingly offer a decently large selection of slots and table games in their casino.
The table games are run by BetSoft, a well-known gambling software company specializing in creating online table games. The animations of the table games run smoothly, and you'll feel immersed in the experience once you virtually "sit down" at the table.
They have a large number of slots you can play on, several of which come from their own software, Acegaming. However, the better slots are definitely ones created by BetSoft (as they're a well-known company), and you'll find yourself having a much better time on the ones created by them.
Mobile
Realbet has created a platform that can transition from your computer to your smartphone seamlessly. They don't have an actual app you can use, but if you log in to their website from your phone or tablet's browser, their website is well optimized for the smaller screens.
You'll find everything you need there in a more compact, easier to digest way.
Bonuses and Promotions
Welcome Bonus

: Realbet's welcome bonus is somewhat competitive compared to other sportsbooks. They offer a 100% deposit bonus of up to $500. This can be used on either sports betting or their online casino.

Reload Bonus

: A simple 20% deposit bonus of up to $200.

Refer-a-Friend

: If you refer a friend to Realbet, you'll receive 25% of what they deposit (up to $300).

Parlay Challenge

: Take part in Realbet's challenge and create an accumulator, and get paid back an additional 20% when you win.
Some betting sites make their bonuses easier to withdraw. However, all of them have an incentive to make it as difficult as possible to get free money from them. Realbet takes it to an extreme when playing on their casino (x25 rollover), but when betting on sports it's only x5, so not as bad.
What Are Others Saying About Realbet?
In this section, we try to provide a completely unbiased point of view when reviewing any website. With Realbet, we took the same liberty to investigate thoroughly and without judgment.
What we found was a consistent wave of negative reviews.
You'll find that there are websites that may have a financial incentive to review Realbet positively, and they skim over a lot of alarming allegations. However, when you dig deep into the actual user reviews, you'll find an alarming trend of the company not paying customers on time.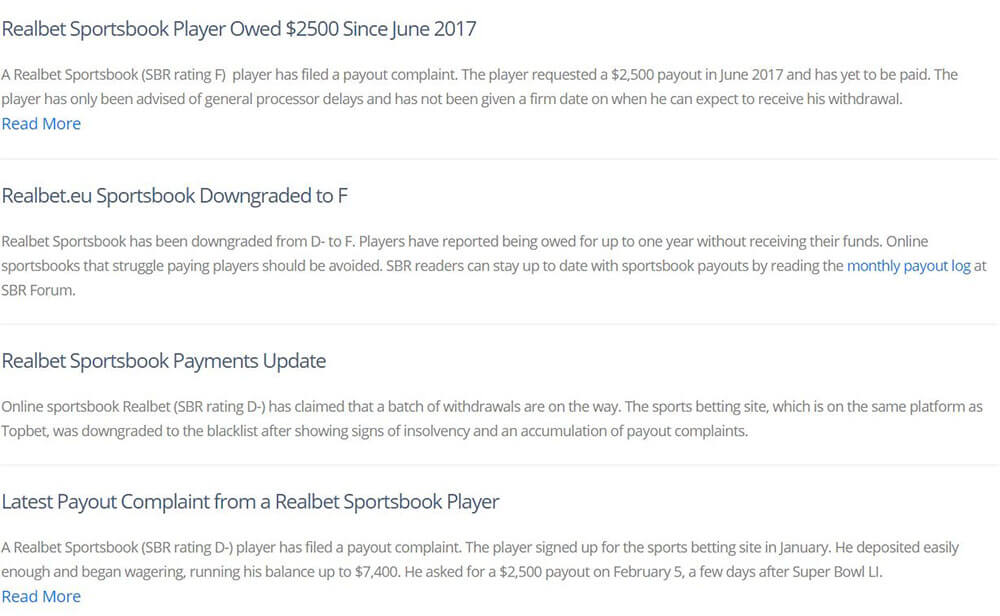 As you can see in the picture above, a gambling news aggregation website has compiled many stories and complaints users have submitted against Realbet, and there was much more than the ones shown in the picture.
Frequently Asked Questions
What customer service options do Realbet have?
There is, unfortunately, no live chat on Realbet. You can contact them via their email or phone number for any queries. This means any query you might have will take a long time to be resolved unless you can solve it on the phone.
What deposit methods are there?
For now, the only two options are Visa and Mastercard. Nothing else apart from that. That is something quite unprecedented for an online sportsbook. You'll usually never find a website having only two deposit options.
How long do withdrawals take?
Here's where it can be tricky. Technically they are supposed to take a few days as it only has to be processed by their team and then by your bank. But there are a multitude of reports stating 3-4 weeks and even a range from 8-16 weeks.
Realbet Review: Final Verdict
It's tough to recommend Realbet to any bettor, new or old. Sure, the sports betting portal is solid, and the live betting is pretty good, but even if you were to win, there's no guarantee you'll see your money. For this reason, the suggestion we give to any bettor reading this is to stay away from Realbet. At least until they attempt to fix their operations.
UPDATE 11/16/20: Realbet has been taken offline, probably due to a lack of finances and/or fraudulent activity. Although there were some positives to Realbet's website, it's probably best for all parties that the site is now offline due to the overwhelming amount of complaints.
Specification:
Realbet Sportsbook Review: Live Betting Sportsbook & Online Casino
| | |
| --- | --- |
| Currencies Accepted | USD |
| Minimum Deposit | $5 |
| Bonuses | Yes |
| Languages | English |
| Live Chat | No |
Realbet Sportsbook Review: Live Betting Sportsbook & Online Casino